Dr. Ingrid Paredes
Gynecologist (OBGYN) in Miami, FL


(578 reviews)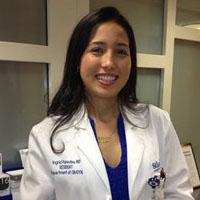 Dr. Ingrid Paredes is a gynecologist in Miami, FL. She has a 5/5 rating from patients.
Locations:
FemCare OB/GYN
7800 SW 87th Ave, Suite A-120, Miami, FL, 33173
(305) 412-6004
About Dr. Ingrid Paredes:
Doctor Ingrid Paredes is a board-certified Obstetrician and Gynecologist who was born and raised in Havana, Cuba. She is fluent in both English and Spanish and obtained her Bachelor's degree in Biology from the University of Florida. After completing medical school at American University of the Caribbean School of Medicine (AUC), she trained in Ob/Gyn at St Luke's University Hospital in Allentown, PA, where she served as an attending physician and was actively involved in teaching Ob/Gyn residents and medical students. Dr. Paredes has a special interest in preventive medicine, educating patients, and improving the health of young women through contraceptive education, pregnancy and STD prevention. She is skilled in various gynecologic surgeries, including hysterectomy and tubal ligation.
Find a Doctor by Specialty